To Win the Battle Against Corrosion, Start by Selecting the Right Fitting Material for Your Operation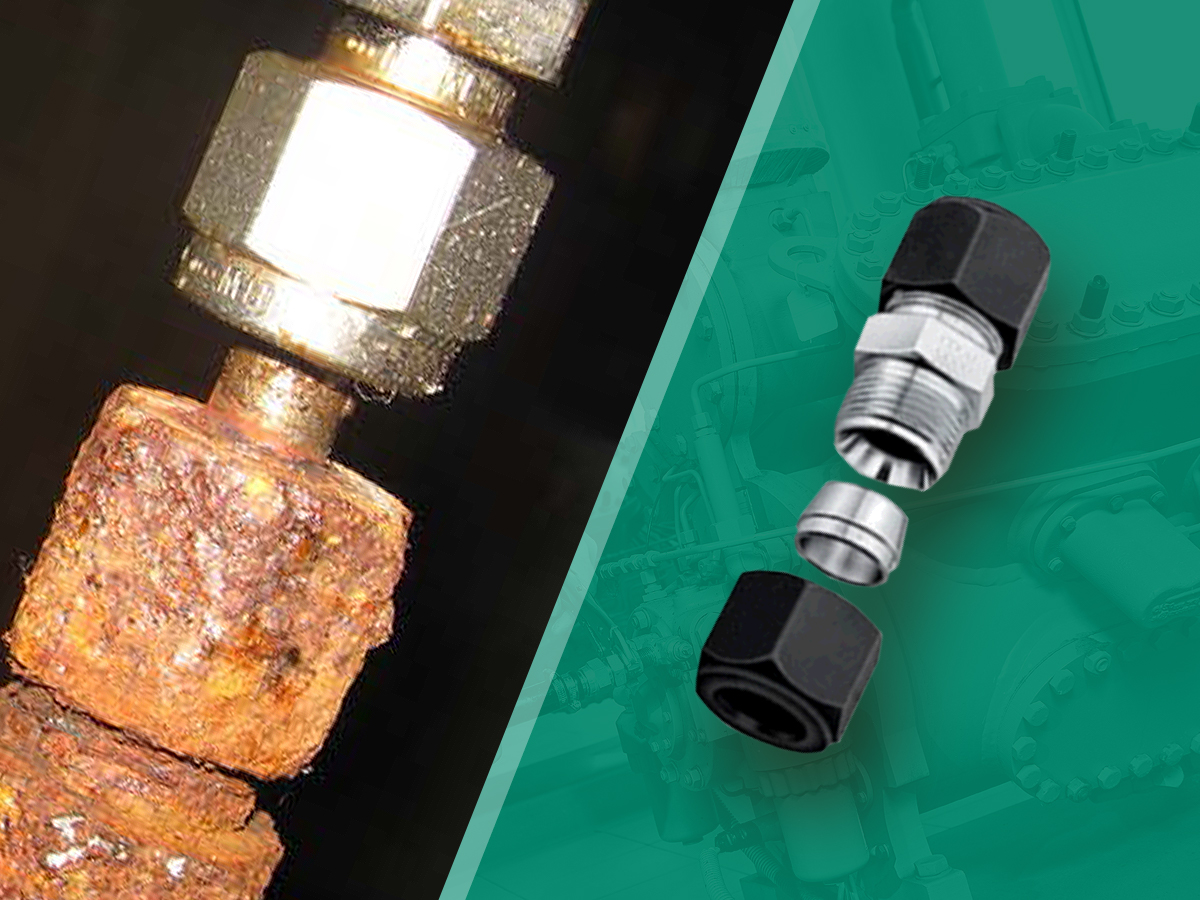 For those working in oil and gas, power generation and chemical production markets, corrosion resistant fittings can be the difference between a problem-free operation and costly downtime.
According to the National Association of Corrosion Engineers International, the total direct cost of metallic corrosion is estimated at $276 billion per year. While the figure includes more than 20 different industrial sectors, substantial economic losses were reported in petroleum refining, chemical and petrochemical manufacturing and utility distribution.
With increasing frequency, these industries are turning to more challenging applications, resulting in an increasing number of situations where compression fittings and other equipment are being used in corrosive production environments. Compression fittings facilitate the numerous connections in compressed air systems used in chemical processing, petrochemical plants, paper mills and many other industrial settings. They seal a broad range of aggressive fluids and chemicals while resisting internal and external corrosion. High-quality compression fittings hold internal pressure without leaks or failure, and users can repeatedly disassemble and reassemble them with no loss of sealing integrity.
Corrosion Problems
Many situations in which the proper fitting must be selected involve large quantities of hydrogen sulphide, carbon dioxide, brine or hazardous chemicals. These are highly corrosive substances that can cause serious problems – from catastrophic system failure to significant human, environmental and economic loss.
Other problems caused by corrosion include additional costs for:
• Replacing damaged equipment
• Overdesign to allow for corrosion
• Preventative maintenance
• Shutdown due to failure
• Loss or contamination of the product being produced
• Efficiency decrease
• Failure of downstream (or adjacent) equipment
In most cases, these situations are the result of not properly analyzing the specific operating parameters and designing the most suitable equipment that utilizes components made with corrosion-resistant materials.
Corrosion Solutions & Material Selection
To resist corrosion, compression fittings in both single-ferrule and double-ferrule designs must be made with the correct alloy for a specific system. The best way to ensure correct material selection is to partner with a compression fitting manufacturer that offers an extensive range of alloys, from conventional steels to high nickel alloys and titanium for the most demanding applications.
The ferrules – especially the back ferrule in a two-ferrule design – must also be manufactured using the proper hardening process. Traditional nitriding is a method of infusing a correct and consistent level of hardness over a selected area by increasing the carbon level in the surface of the area. However, this method changes the structure of austenitic stainless steels and reduces their corrosion-resistant properties. Improved hardening processes like Suparcase allow stainless steel and other alloys to be hardened without compromising corrosion resistance of the given materials. The Suparcase process achieves a carbon supersaturated surface layer by altering the oxide passive layer on the surface of the stainless steel without creating any detrimental effects.
Today, compression fittings are available from many domestic and off-shore suppliers. They often appear to be identical, though they may vary slightly in design details and manufacturing processes. But looks are deceiving. Compression fittings and their most critical component, the ferrule, also seem rather simple in form and function. In reality, they are highly engineered and require considerable design, metallurgy and production expertise in order to function properly.
Not all products on the market meet the same stringent requirements, so industrial manufacturers need to make sure they ask the right questions of their part supplier to ascertain the quality of their products.
To put industrial manufacturers in a position to get optimum performance from their fluid and air handling systems, Parker Hannifin offers both single- and double-ferrule designs and a variety of alloys designed to resist corrosion in different environments.
Click here to learn more about CPI-Series Single Ferrule Compression Fittings from Parker Hannifin. To learn more about how Parker Hannifin engineers compression fittings to resist corrosion, read our white paper "How Compression Fittings Can Make or Break a Compressed Air System." For more information on our instrumentation components, visit www.fluidflow.com/accutech.